The considerable experience of the English Academy as the leading language school for English in Brussels allows us to create an efficient way to evaluate, register and follow-up on every individual enrolment for the small group lessons.
This is how it is done at our school of English in Brussels
L

evel assessment by our English school in Brussels
Where many language schools organise groups at 4 levels, the English Academy organises its group lessons on 7 different levels, from beginner to advanced. This guarantees very homogeneous groups of students with a similar knowledge of English, who will benefit from the questions and corrections of other participants.
However, this only works if we determine the level of every participant accurately. Therefore, every potential student will complete two English language assessments: an online level test on our website and an oral test.
You can make an appointment at the school during which you can ask all your questions and take your oral English test. Or you can take the test over the phone. It is as you prefer.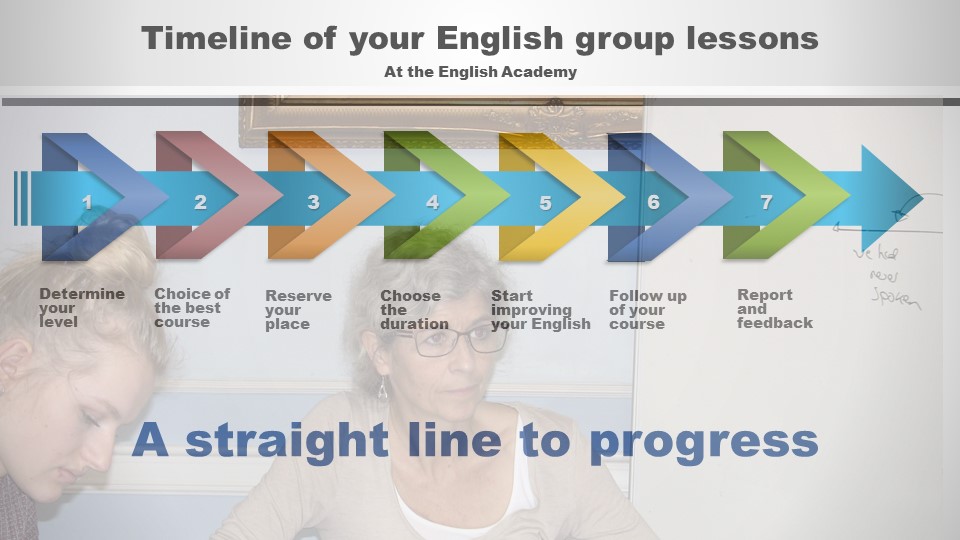 C

hoice of group course
For our general English group lessons, you can choose between Saturday mornings from 10 am to 1 pm and evenings from 6 to 9 pm. We organise our 7 levels – one group per level – for both timetables. A full list of every class date of the academic year for our Saturday and evening lessons can be found on our website.
Participants with an intermediate level or higher can also choose specialised English courses to prepare for an official, worldwide recognised certificate of English: IELTS (International English Language Testing System), FCE (First Certificate of English), CAE (Certificate of Advanced English) and CPE (Certificate of Proficiency in English).
The English Academy is in a unique position to help you succeed in these exams, since it is an Exam Preparation Centre of the University of Cambridge.
R

eserve your place
Once we know your level and your preferred timetable, you can decide to reserve your place in the corresponding group. The English Academy is a school of English in Brussels that has a policy of accepting only 4 to 8 people per level. This guarantees the active participation of every student and is a quality standard on which we don't compromise.
Consequently, you should register for the course as soon as possible, in order to be sure of one of the limited places available. Once we reach a total of 8 people with a starting level similar to yours, we close the registrations for that group. So, don't wait until the last week before the start of the lessons but contact us as soon as you know that you want to develop your English.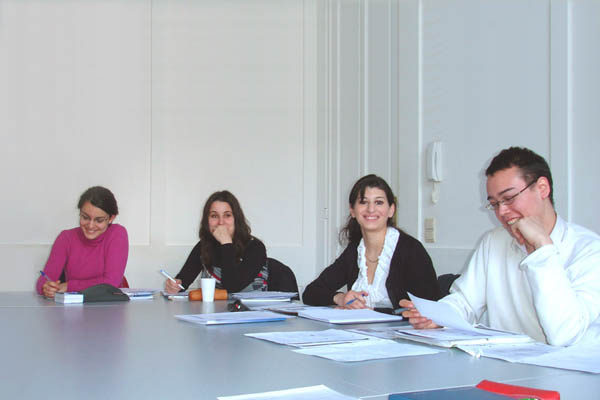 H

alf a year or a full year
Our group classes run from the end of September until the month of June, for a total of 90 hours, or 30 lessons of 3 hours. The objective is to go up a full level on the European Framework for Languages in one year. To guarantee maximum progress, we advise our students to register for a whole year if possible. We offer you a reduced hourly rate if you reserve for a whole academic year.
You can also register for a term of 45 hours, which is exactly half a school year of 15 lessons: the first term runs from September to January and the second term runs from February to June.
You start at a certain level and your normally stay in the same group all year, improve your English together with the other members of your group, to end the year at a higher level than when you started.
F

ollow-up of your course
As you attend your weekly classes and develop your language skills step by step, your English trainer teaches you in an interactive way, expecting your personal input so that he can correct and guide you through the course. Your active participation not only boosts your proficiency level, but also allows your teacher to check if you understand the explanations and progress as planned. We give you a course book and supplementary tools that you can use to revise the content you prefer.
R

eport and feedback
At the end of your language course at our English school in Brussels, you will get a detailed report on your efforts and on the progress you have made in the different language skills. The report also includes additional personal remarks and advises you what you should work on to improve your English further.
We also ask for your feedback on the training course you took at our language school. You will be invited to inform us how satisfied you are and how you assess the progress you have made. Thanks to this information, we can constantly monitor and improve the quality of our language lessons and guarantee you that you will progress as fast as reasonably possible.