Our intensive French courses in Brussels guarantee a fast progress. You can also learn French with a flexible lesson plan, adapted to you availability.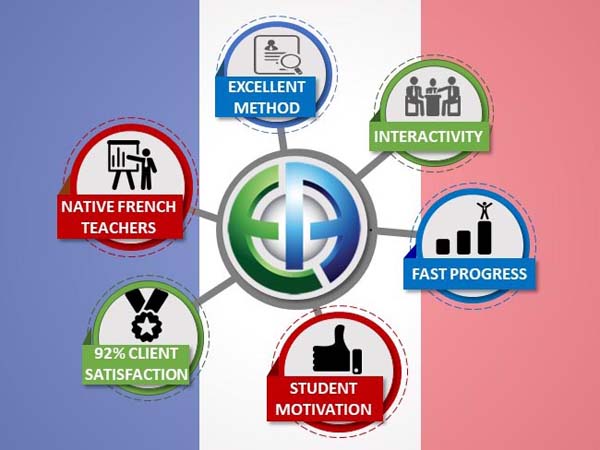 Success in French
There are good reasons why our French courses in Brussels are so successful.
Our intensive French language courses stand out because they live up to these requirements:
Focus on interactivity: we make you speak French.
Ability to motivate the students for learning.
Flexibility to adapt to new situations and problems.
Our native French teachers use an excellent method.
High client satisfaction of 92% (ref.: external Qfor audit).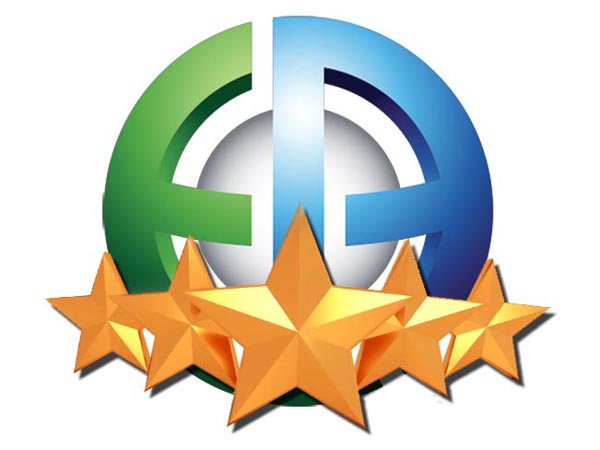 Our References
Here are some great references for our intensive French language courses in Brussels.
Our school has a long reputation for offering excellent French language courses to:
Members of the European Parliament, for 25 years.
Actiris, the unemployment service, since 2002.
European commissioners and permanent representations.
Private students and companies from Flanders and abroad since 1947.
And you can be our next successful student, if you want.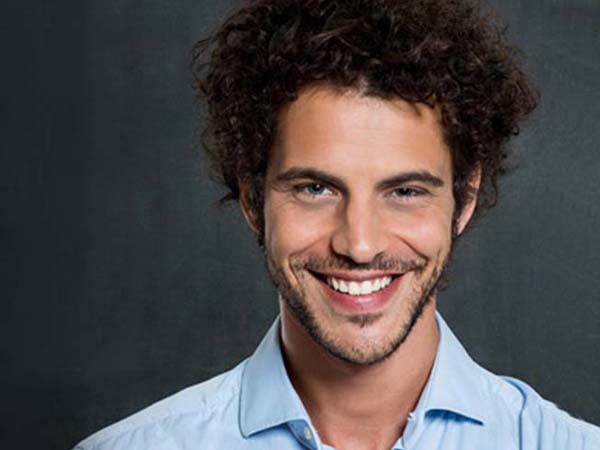 French native speakers
Our trainers teach only their mother tongue. Learn French with a genuine French teacher.
All our French teachers in Brussels are native French speakers because they:
Can help you develop the right, French pronunciation.
Know the full vocabulary, including all nuances.
Can introduce you to the broader French culture.
Speak French all the time and make you do the same.
In short: you will improve faster with a native French teacher from Belgium or France.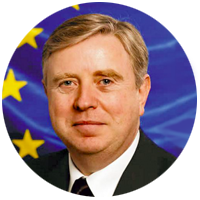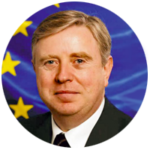 Mr Pat Cox
Former President of the
European Parliament

I took intensive French courses in Brussels at the English Academy and I must admit that I was very pleased with the quality of the lessons and the capacity of my teacher. The English Academy is definitely an organization that renders the best services possible.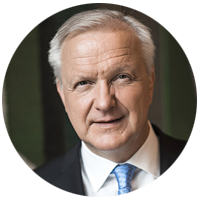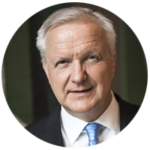 Olli Rehn
Former EU-Commissioner &
Governor Bank of Finland

My private French teacher Patrick made me progress a lot and was very flexible, given my busy professional agenda. I can certainly recommend him as well as the English Academy Brussels for their French courses of the highest possible standard.
Choose how you want to learn French in Brussels
Flexible individual French lessons

Adapted to your possibilities
When you are available: is when the lessons take place, once or several times per week. You determine the schedule of your private French course. We will choose a teacher accordingly.
Any time of day: learn French in the afternoon, at lunch time, in the morning or even in the evening (starting latest at 6 pm). Rescheduling of classes is also possible. One class is min. 2 hours.
Prices
flexible French lessons
30 hours: 1.650 €
+ 21% VAT = 1.996,5 €

45 hours: 2.351 €
+ 21% VAT = 2.845 €

60 hours: 2.970 €
+ 21% VAT = 3.594 €

90 hours: 4.230 €
+ 21% VAT = 5.118 €
Intensive French course Brussels

Full immersion guarantees fast progress
Half day intensives: either in the morning or in the afternoon. Your intensive French lessons will enable you to cover a lot of ground in a short period of time, including a lot of practice.
Full day intensives: these are the most intensive French lessons that you can take. You work with two teachers (mornings and afternoons) and listen, speak and eventually think in French.
Full day intensive: 7 hours/day, 5 days/week
One week: 1.980 €, snack at lunch and other costs included
+ 21% VAT = 2.396 €
Two weeks: 3.552 €, snack and other costs included


+ 21% VAT = 4.298 €
Semi-intensive: 4 hours/day, 5 days/week
One week: 998 €, lesson material included
+ 21% VAT = 1.208 €
Two weeks: 1.980 €, lesson material included


+ 21% VAT = 2.396 €
Transport fee for on-site training: give us the address for a quote.
Testing, reporting and administrative costs: included.
Flexible timetable. You inform us when you are available and how often you want a lesson. You can cancel and reschedule your training sessions. Another option is a daily intensive French course in Brussels.

Needs analysis. During a personal interview, we will assess your objectives. The lesson plan we design together will focus on those individual requirements that best address your needs.

Learn French in Brussels efficiently. Even a weekly course can be intensive, since you are the sole focus of an interactive course. You are constantly challenged by your French teacher and will learn fast.
Level test. Before you start, we will test your current level with a written French test, complemented by an oral test during your intake interview. This will allow us to adapt the lessons to your current knowledge.

Talking French. Our intensive French language lessons in Brussels will boost your speaking skills, resulting in a better fluency and confidence. Your private French teacher will correct your mistakes instantly.

Learn French anywhere you want. The lessons can take place at our training centre or your home or office. The travel expenses for other locations depend on distance and accessibility. Ask us for a quote.
Improve your English speaking skills with a skilled native English teacher.
The English Academy guarantees your satisfaction.